Clap on Cue... or How to be a Good Audience Member at the Petit Journal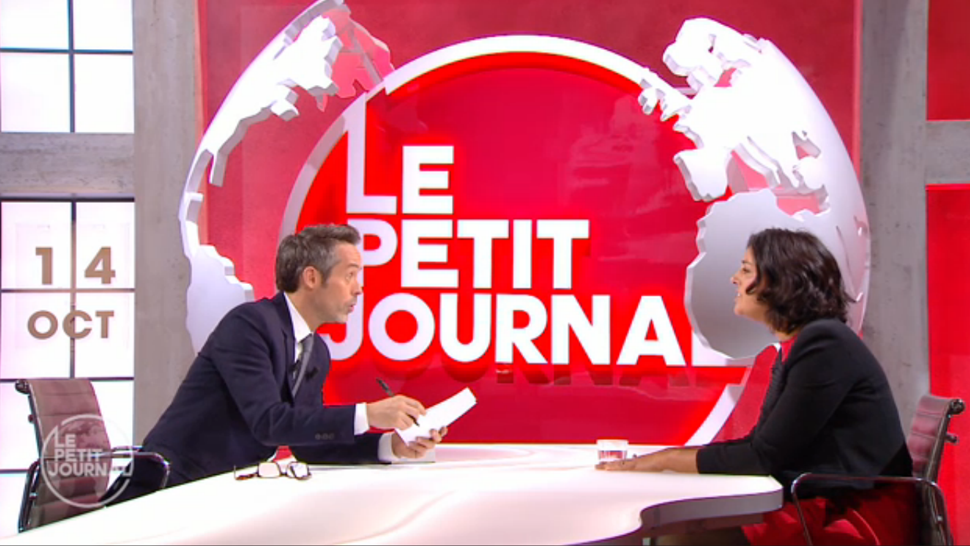 By Qi Xie, CUPA Fall 2015
Last Wednesday, I got to be a member of the studio audience of the show Le Petit Journal (The French version of the Daily Show). Imaad Ali, our FLE coordinator, has been a long-time fan of the show and got us places to sit in on the episode of October 14. This was my first time sitting in a studio (although right behind a teleprompter, sadly) and learning how TV really works! Needless to say I was very excited.
There were around a hundred people in the studio. Besides the CUPA group, there was another group from Alsace. Before the show started, a man led us to do a couple of exercises of applauding and laughing, which the Alsatian group was really good at. He also told us an anecdote of past audience members that went asleep during a New Year's Eve show thanks to the untimely consumption of alcohol and warned us that would look really bad, on TV.
Finally our host, Yann Barthès, came into the studio and we were ready to begin filming! The guest of the episode was Myriam El Khomri, France's Ministre du Travail. The dialogue between them was in a more serious tone than I expected, and the discussion included the recent Air France and Uber manifestations (a topic that is always popular in France). They played a video compilation of Manuel Valls' awkward moments for some reason and everyone laughed. Later in the show, Yann asked the Ministre du Travail to define what she meant by "left" and "right", and she gave (in my opinion) a very thoughtful answer.
When the filming finished, it was funny to see that Yann immediately took off all the TV paraphernalia on his shirt and put on his glasses. After sitting in a rigid position for more than half an hour, I also couldn't wait to begin stretching. It's hard work being a good audience member. This was definitely a fun experience for me and also for my mother, who later had to spend 15 minutes looking for me in the footage I sent her :).