Alexandra Corey's Summer in Paris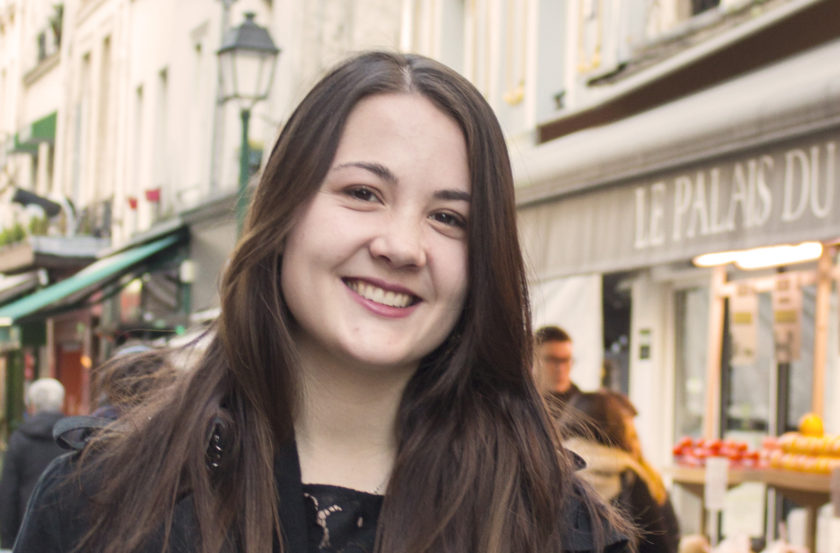 Alexandra Corey's Summer in Paris
English Literature Major, Reed College
CUPA Summer 2014
In the summer of 2014, I participated in CUPA's summer program as I completed research at the Sorbonne for my bachelor's thesis at Reed College. My experience with CUPA that summer enhanced my relationship with France and the French language in a way that changed my life, because although I had prior experiences in France with French host families in towns outside Paris, I now have a community in Paris to which I can come home to, as well as an unparalleled academic experience in French. I am living in France today, in Chartres, teaching English in a middle school and a high school, and I often take trips into Paris specifically to see my former host family or former professors from that summer.
From the beginning, the staff at CUPA paired me with a perfect family who lived a short metro ride from the classrooms. They set me up with a NAVIGO pass, and my host family patiently instructed me how to navigate the metro route home until I learned to do it alone. By the end of the summer, I felt entirely autonomous, even in such a sprawling city. I now know the Paris metro like the back of my hand. Every night at home, my host family and I would sit around the dining table and talk about our days, the news, and other topics. If I had a question about how to say anything in French, they would patiently listen and respond. They met my parents from America for dinner in Paris the following summer, and just last month I took a trip back to Paris to have dinner at their house again, as I will do many times to come.
I took a literature course and a grammar course, although I audited the grammar course since I was also conducting research for my thesis at the same time. It was a wonderful opportunity, because I still got to participate in two equally valuable yet different lessons. I still keep in touch with both professors and recently met with each of them in Paris. The literature course, Paris Mythique, explored the depiction of Paris as a place and as a myth in French literature throughout different eras. Not only did I learn many interesting facts and stories about Paris, I also learned how to refine my rhetoric in French in a way I could never have done in an American classroom; it was a powerful experience to learn how my French writing voice differs, and to watch it develop. Both courses took us on many fascinating excursions to landmarks, concerts, and bakeries, and Paris opened up before us with our professors as guides. The excursions allowed us to meet other Parisians, shop owners, bakers, etc., and to practice our French in the outer world.
What inspired me most, however, is how my professors at CUPA treated me as an equal, and continue to do so. One of my professors went to lunch with me and we discussed Baudelaire in French, which allowed me to consolidate some important ideas for my thesis. Both of my professors frequently checked up with me about the status of my research and offered their assistance. I remember the way that both of my professors listened to my ideas as I expressed them in French, and bounced their ideas back and forth in the most dynamic way. I remember thinking: This is what it means to be in academia, and this is what I want. They allowed me to discover my own voice in a new language, and they showed me that it mattered. CUPA provided me not only with useful and interesting courses, but also introduced me to professors and a family who remain valuable mentors and friends.